Secrets About Me And My Blog
I think you're pretty interested in knowing more about me that's the reason you've come here.
I'm human like you who is working day and night to provide you guys best of my knowledge that I have.
Abdul Samad Essani – The Brain Behind Born Blogger: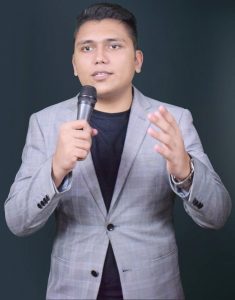 I was the first who started born blogger in 2013.
I bought the domain and started working on it.
Due to studies, I can't work on it properly so I sold it out to someone else.
But you can say fortunately, The domain got expired 🙂
I saw and immediately bought it with more dedication towards my work.
I bought it on June-1-2016 and started working on it on June-15-2016.
My first post was of Beginners guide to blogging world.
I promised myself to write minimum 2K and maximum 5K words articles on my blog.
My first post was of 2K+ words and it was liked by many Pro Bloggers.
However, I wrote full SEO guide which covers almost all SEO aspects and by reading that you can also become an SEO expert for sure.
You can check that by clicking here.
I'm human being and blogger like you guys but everyone have their hobbies, skills and interesting facts, I also have mine:
I love to do Blogging.
Writing article more than 5K words is my passion.
Helping others with my knowledge is my addiction.
Doing work in dollars and spending it in Pakistani Currency is my love.
I had a Girlfriend but not anymore, We broke up!
I love to hangout with like-minded friends.
I work with more than 100 clients per year. (It can be increased, depends on the work client have)
I love to design Blogger Templates and Genesis Framework Themes.
Will going to provide services on this year with my blog, Working on it!
My dream is Ferrari, my own apartment and a office where I work like a boss!
There are more but I think these are enough 😛
I started blogging in 2012 by seeing Muhammadniaz.blogspot.com.
The .blogspot.com thing clicked my mind.
I thought why the hell this blogspot.com is coming in the site?
So when I removed Muhammadniaz from the domain and only wrote .blogspot.com then I saw a Blogger platform where you can make a site for free (Actually it's blog not website but at that time I didn't even knew about it 😛 ).
I made a site same to same like Muhammad Niaz because I didn't knew before that copying contents is illegal.
After sometime my whole site got deleted by the Google DMCA, it was really bad at that time.
You can't even imagine my feelings at that time, I searched on Google about DMCA and got to know that the blog was deleted by copying other articles and it's totally illegal.
At that time I deleted my whole Google account and thought to learn the blogging properly.
I searched on Google about blogging and got to know about MyBloggerTricks.com.
I really woke up for 2 or sometimes 3 days just to learn blogging and my dedication & addiction towards blogging became more and more.
I search MyBloggerTricks for getting knowledge and solving my own problems.
After I learned many things from my first and only mentor Mohammad Mustafa Ahmedzai.
I started my blog with passion to write my own contents but with the sub domain bloggertechniches.blogspot.com and started writing my own articles.
After reading many articles that if you want to start blogging as your profession then you have to buy the domain.
I always wish to buy the domain but I waited for it and got the domain bornblogger.net by my first client along with the hosting. 😀
I leaved blogger and gave bloggertechniches to Muhammad Umer as he was new with passion to learn blogging.
I started my first ever professional blog with my custom domain on WordPress CMS at that time.
It was really hard to manage WordPress but by the Grace of Allah and with passion to learn, I learned it too!
After sometime Muhammad bought a domain with the help of mine and redirected bloggertechniches to Allblogthings and featured on Abdul Wali's Top 10 Bloggers List, It was really a proud moment that my friend got this kind of respect and really he is a Gem!
Wish him more and more success 🙂
As I mentioned above due to studies I have to sell Born Blogger.
I sold it for 80$ only as I was very new to selling blogs but I was very happy.
After giving my papers I started blogging once again with new domain bloggerexpertlabe.com as I know how to sell the sites I sold it too of 35$ 🙁
After selling this I got .net domain for free from Bigrock it was crazzyblogger.net.
I started blogging again with this domain but sold it too for 50$.
Really it's cheap but selling becomes interesting and without knowing that we can make money by our blogs with many things I sold it out.
I thought it will be my business to earn some bucks but never knew it before that I'm wasting my time by not working on any blog.
After a year or so I started BloggingEarning.com which I won from a Giveaway.
I renewed the domain and bought the hosting to host it on WordPress.
I started writing articles on Blogging Earning, but you know what I was writing the articles of 500-1000 words, this was my mistake.
I thought why not sell it and start a new blog with the outstanding contents, I sold it to Ali Raza for 200$ (This is low but better from all).
After sometime I bought Born Blogger from which I got famous among bloggers back in 2012.
It was really a good and a lucky moment for me that I got Born Blogger back. 😀
So here it is in front of all of you. 😉 Wish me a best luck and you know what I promised myself that I'll never gonna sell it. 😉
My Social Accounts:
Finally, you know much more about me. Do subscribe on my blog and like my blog's Facebook page for getting instant updates 😉
Thanks for reading, Bye Bye. See you soon! 🙂